Press

2020
MOVING to 2021!!!
INTERTRAFFIC 2020 from 21.-24.04.2020 at Amsterdam
MOVING to 2021!
SUISSE Public 2020 from 09.-12.06.2020 at Bern
TWONG with interiors ;-)
These images will show you why you should 'own' a TWONG - design, furniture and technology fit together perfectly!
2019
We were at DeuSat 2019 in Cologne from 27-28/03/2019
Our exhibition stand on the German road equipment providers' day was a complete success! We received plenty of praise from our visitors who already use TWONG, and those who had heard of TWONG were personally won over by the diverse range of possible uses. As an interface for users and producers, our stand at DeuSat 2019 was a great opportunity to discuss and find solutions for all assembly types.
deusat_19_1.jpg
| 775.5 KiB |
deusat_19_2.jpg
| 780.3 KiB |
deusat_19_3.jpg
| 780.3 KiB |
2018
We were at INTERTRAFFIC 2018 in Amsterdam from 20-23/03/2018
We were also able to present several new innovations at our stand this time. International guests were amazed at the demonstration of our lifting equipment - everyone was captivated by the performance power of the TWONG at the push of a button. All our visitors wanted to try the TWONG for themselves, and were impressed by its light weight and easy handling.
Our 'Austrian Kaiserschmarrn' (shredded pancakes), prepared there and then at the stand by top chef Erich Bauer, were the 'top sellers' again! We look forward to being allowed to spoil our guests with food again at Intertraffic 2020.
Intertraffic_2018_1
| 871.3 KiB |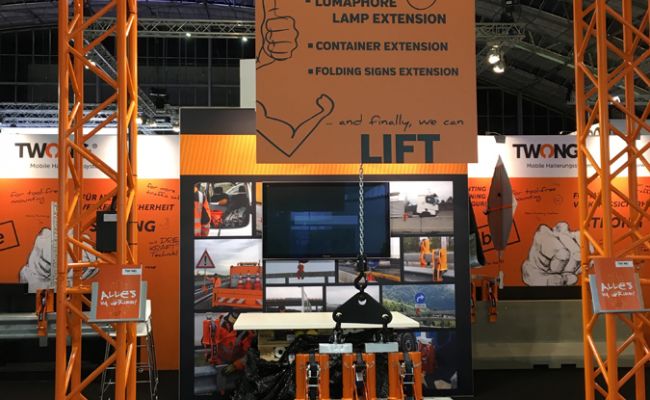 Intertraffic_2018_2
| 600.2 KiB |
Intertraffic_2018_3
| 1,021.0 KiB |
2017
TWONG on a visit to GORELATE